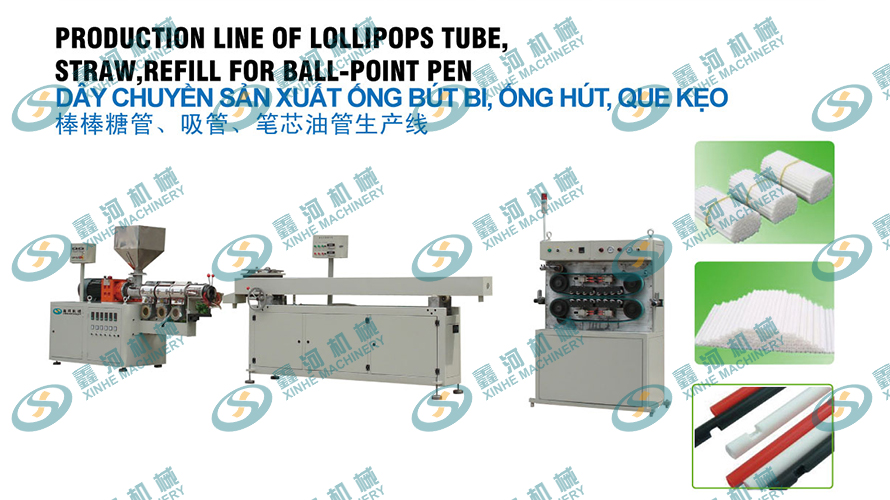 | | |
| --- | --- |
| Power | around 16 KW |
| Production Line Speed | 12 m/min |
| Total Length of Production Line | around 16 m |
Production Line Of Lollipops Tube,Straw,Refill For Ball-Point Pen is a complete set of units for manufacturing beverage straw, using polypropylene (PP) as raw material, with the use of color master, after melting, extrusion, shape, cooling, traction, cutting, can produce colorless, monochrome, two-color, three-color beverage straw. This production line has become the most advanced straw manufacturing unit in the world after practice and continuous updating. Cooperate with mold or other auxiliary equipment, can produce all kinds of pipe or sheet material similar to straw: such as sugar bar, coffee agitator bar and so on. This production line is composed of extruder, mould, sectional cooling device, traction cutting device, electrical control part and so on.
The working process of Production Line Of Lollipops Tube,Straw,Refill For Ball-Point Pen :
Raw material → extruder → vacuum table → haul-off → stacker
extruder

Screw and Barrel:

Screw and Barrel Material 38CrMoAlA,

Nitriding, Surface Chrome plate, Nitriding Layer

Thickness:0.5~0.7mm, Surface Rigidity:800~900HV.



Vacuum Tank




Calibration Tank Length:

6m, Adopt 3mm thickness stainless steel board,

Adopt 0.75KW Gearbox Speed Reducer Motor, Adjusting



Haul-off




Haul-off Bracket Length 1200mm,

Adopt Pneumatic gas cylinder,

Adopt 1.5kw*2sets ABB Inverter,

Belt 80mm*2500mm.



twin screw extruder

Electric control cabinet: the main inverter and feeding frequency converter

Motor、pump: main motor 75KW,feeder motor 1.5KW

Capacity:300-400kg/h